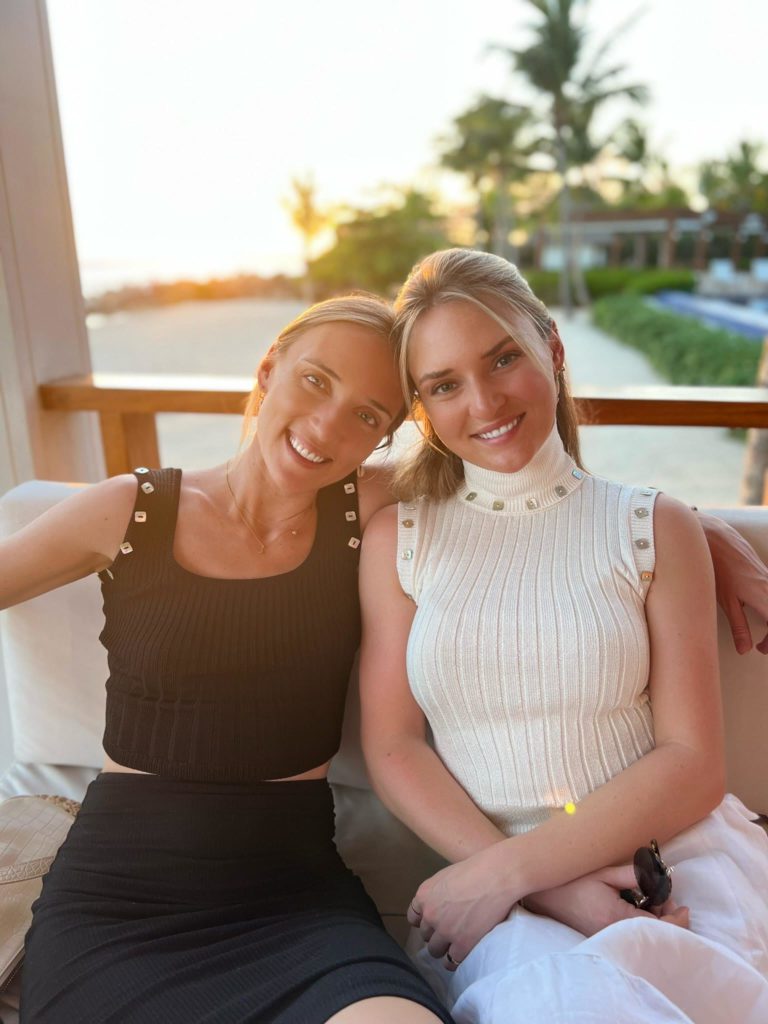 Meet Sydney Ellis, a Darien native and the founder of Niall Knithouse. After working in the fashion industry for seven years, Ellis launched her sustainable, modular knitwear line in 2021. The collection "offers shoppers a way to reduce their yearly consumption, and future discarding, of clothing without limiting their styling options." Find out how she went from selling crafts as a child to having a successful fashion merchandising career, and what she loves best about Rowayton and Darien!
How many children do you have and what are their ages?
I don't have children yet, but I am the proud mama of a rescue pup named Joanie!
What brought you and your family to town?
I grew up in Darien, and my parents moved to Rowayton when I (their youngest child) was in college. I LOVE it here! Beach walks, boat days and Market breakfasts never get old.
What's your favorite aspect about being part of the community?
While I'd love to live here full time, when I am here I see so many familiar faces, and love to partake in town festivities whether that be Fridays at Sails, Sunday concerts at Bayley Beach, Sidewalk sales or Shakespeare on the sound!
What's your favorite family activity to do in the area?
I love picking up sandwiches at the Market and taking the boat to Ziegler's cove for an afternoon of swimming with friends.
Tell us about Niall Knithouse and how you decided to launch it?
I worked as a merchant in the fashion industry for 7 years and was struck by the excessive waste the current practices create. I wanted to offer shoppers a way to reduce their yearly consumption, and future discarding, of clothing without limiting their styling options. Further still, I wanted to ensure any product I was creating was done so as sustainably as possible, from material sourcing to manufacturing and distribution. I chose knitwear because the process of knitting inherently produces little to no waste when managed responsibly. I chose viscose because it's cool feel can be worn in any season, and its luster allows it to be dressed up or down for any occasion. Our viscose is FSC certified, meaning it creates net zero deforestation and protects ancient and indigenous forests and communities. Our yarns are responsibly dyed, and our buttons are natural mother-of-pearl shells, meaning they are biodegradable. Our sweaters are produced at a female owned and operated facility in Los Angeles. Finally, our modular design allows each item to be worn multiple ways throughout the year, reducing customers' needs to buy new clothing each season. Currently, over 85% of clothing produced each year ends up in landfills, with the average American throwing out around 80 pounds of clothing each year. Our mission is to help reduce that number, and inspire other companies and consumers to follow suit.
Can you please tell us a bit about your path to entrepreneurship?
For as long as I can remember, I have been a creative entrepreneur. When I was younger, I began making crafts to sell, which evolved into jewelry in high school, which I actually sold to a store in Darien! At Dartmouth, I designed and sold iPhone cases for teams and Greek houses around campus. After college, my mix of creative and business interests led to a career in fashion merchandising. After getting traditionally trained at Ralph Lauren, I joined a mission-driven startup in SF called Marine Layer. As the only merchant, I learned to be scrappy, and thrive in the often organized chaos of a startup. However, I recognized I was not getting the structured training I needed to someday run a company. I decided to return to an established brand to gain further guidance and mentorship. I transitioned to a unique role launching the Men's division at Madewell, which functioned as a "mini startup" within the company. I had ownership over the division, and access to the resources I needed to grow. In 2021, I took another step toward achieving my entrepreneurial goals and launched my own sustainable clothing line.
What does your family think of the line?
They love it! My sister has become a repeat customer and model for the company, and my mom wears her Niall all around town! My parents were both extremely supportive when I left my job to pursue Niall full time, and have continued to be throughout my first year as a founder.
What's the best advice you've gotten from your mom?
I am very lucky to have an incredibly inspiring mother, who offers both solicited, and unsolicited, advice often! I would say her best advice to me has been to welcome failure as the best way to learn. Growing up I was (and likely still am) extremely type A, but my mom helped me realize that you'll never grow unless you push yourself to try and follow your dreams, whatever they may be. If you fear failure, you'll never take risks, and few great things are achieved without a little risk!
Do you have any advice for moms considering entrepreneurship?
I would definitely encourage any mom to follow her entrepreneurial dreams. One learning I had was to make sure you have a steady income stream on the side in the early days. Not only will it help support daily life expenses, but depending on what it is, it may offer some sort of schedule/routine, which I definitely missed upon first leaving my corporate job.
How do you unwind when you need some "me time?"
I am a big fan of getting outdoors with my dog, whether it be a quick walk around the block or a long hike. I also love downloading a new audio book on Audible and immersing myself in a story.
Any words of wisdom?
Don't sweat the small stuff! Just keep putting one foot in front of the other, and tackling what you can that day. Go easy on yourself, entrepreneurship isn't easy. Be proud of the progress you've made so far, and will continue to make. Lots of people have ideas, but not many actually do something about them! Good luck!
We love supporting local businesses. Favorite places in town or nearby to…
Have dinner with/without kids: Sails or Bodega
Grab a drink with friends: The deck at Rowayton Seafood
Have a date night: Sails live music on Fridays
Spend time together outdoors: Our backyard or on the water!
Shop: Darien Sport Shop
Spa/salon: Darien Spa & Nails
Grab coffee: Rowayton Market
Any hidden treasures or other favorites you want to share? Porch Jam in Rowayton and Shakespeare on the Sound
FOLLOW SYDNEY'S COLLECTION ON INSTAGRAM: @niallknithouse