This week's spotlight is on Amanda Spatola—a Rowayton mom of three. She's also a top producing agent with Houlihan Lawrence Darien, a youth lacrosse coach, and a renovation and design enthusiast. After graduating from Middlebury College where she was a member of the women's lacrosse team, Amanda spent several years in NYC covering hedge funds at Credit Suisse before returning to Connecticut to raise her family. It was becoming a mother that inspired Amanda to trade her career in finance for a passion closer to home—luxury real estate. A lover of all things local, well-connected within her community, and often a "go to" resource for friends, it was a natural fit. Learn more about Amanda and her favorite things about Rowayton, her job and all the friendly faces in town!
How many children do you have and what are their ages?
I have three kids. Rosie is 9, Jack is 7 and Griffin is 5.
What brought you and your family to town?
We outgrew our beloved NYC! We always knew we wanted to be close to Greenwich, my hometown, but also wanted a smaller-town vibe. In 2014, we settled in Rowayton and haven't looked back. We love it.
What's your favorite aspect about being part of the community?
There is something magical about being able to walk down my street or bike through town, and recognize familiar face after familiar face. That's what I love most about where I live.
What's your favorite family activity to do in the area?
We love bringing our paddle boards to the beach by our house and taking them out on the water. We love walking around our neighborhood with our dog, too (sometimes a chore, sometimes a pleasure ha!)
Tell us about your career. Why did you decide to get into real estate?
It really does feel like it's in my blood. My father was/still is a commercial RE broker in NYC, and my mother has been a residential realtor in NYC and Greenwich for 40+ years. I worked in the Financial Services industry for many years, and then decided I wanted to run my own business. I love people, I love deals, I love homes. Real Estate felt right; I truly love what I do.
You've been in the industry for 7 years. What is the best or most rewarding part of your job?
The most rewarding part of my job is seeing my clients months after we close on their home, settled in and happy. The transaction goes so far beyond selling a structure/lot; it's really about finding a lifestyle fit for a family. It's a lot of pressure, and I take it very seriously.  It's both challenging and satisfying.
What is one thing you hear most often from families you work with?
Especially post-COVID, clients want to find "their people." Everyone realizes the importance of social interaction and ultimately, friendship (for kids and parents, doesn't matter the age). The families I work with want to ensure they'll make friends in their new neighborhood, and the incredible thing about the places I cover, is that friendly faces are the norm.
Do you have advice for anyone considering a career in real estate?
Real Estate agents come in all shapes and sizes. If you want to do it full-time, be prepared for investment banking hours! Wish I could say I was kidding. It is an around-the-clock job, but very rewarding. You have to love it, though.
We understand real estate is not your average 9-5 job. How do you juggle work and motherhood?
It's really challenging, and I get better about finding balance with each passing year. I have two INCREDIBLE women on my team, Lucy Oldrin and Lauren Parr. I could not do this job at this scale without these women.
What's the best piece of advice you've gotten from another mom?
Take time for yourself. It doesn't matter if you are a full-time working mom, or a stay-at-home mom. I've learned that to be the best version of myself for my family (and for my clients), I need to get a run in, or tennis in, or a walk with a friend in. Do what you need to do to recharge.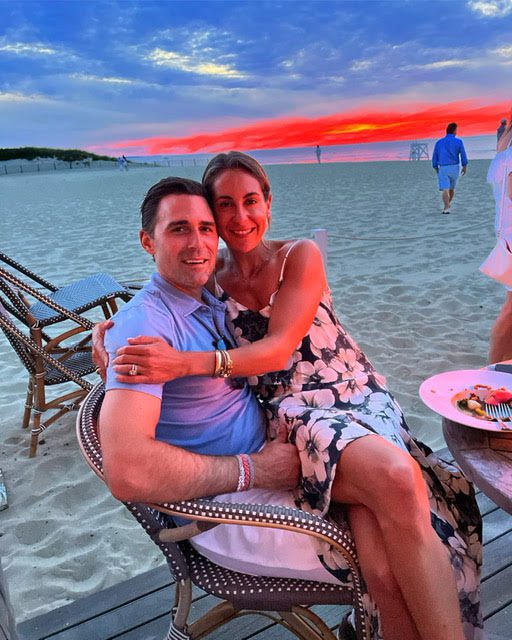 How do you unwind when you need some "me time?"
I'd like to say a cocktail, but when me-time is needed before 5, that's not the right answer ha! I love to run and play tennis.
Any words of wisdom?
About life? Yikes, I could use some words of wisdom myself. I hear myself saying "trust your gut and don't overthink things" often, and if you know me, you know this is how I live. I guess that's my best piece of advice.
We love supporting local businesses. Favorite places in town or nearby to…
Have dinner: I am a sucker for Rowayton Seafood. The staff is like family at this point, and I truly love that spot. I feel the same way about Sails! And two amazing local moms have just opened up Arden's in Rowayton, which is absolutely amazing. I love to get coffee and lunch there a couple times per week.
Grab a drink with friends:
See above, haha!
Have a date night:
I really like the Whelk in Westport. The food is awesome, and I love their drink menu. The cottage is super cozy too. People constantly ask about NY—quality sushi, and I will say that Kissaki in Greenwich does not disappoint.
Spend time together as a family outdoors:
The beach! Hands down our favorite spot. We love Roton Point because there are other options for the kids if the beach gets redundant.
Shop:
Darien Sports Shop is amazing, and the new mall in South Norwalk is awesome too!
Grab coffee:
Ardens in Rowayton and Neat in Darien. Both spots have great vibes and really yummy coffee and treats.